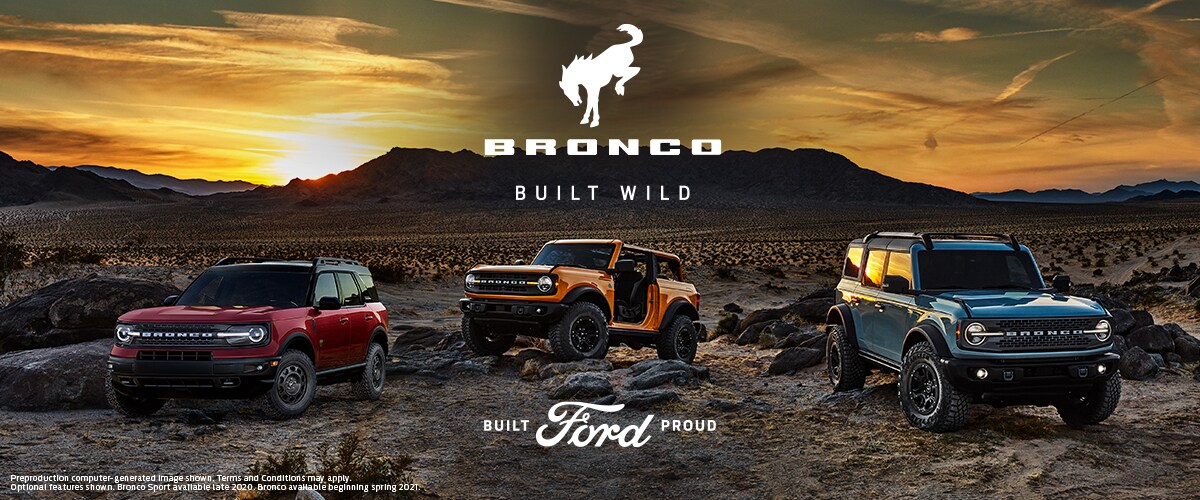 The Ford Bronco is back!
 Pick from the 2-door, 4-door or Sport models.
  2021 Bronco

  2021 Bronco Sport


There's a whole world out there just waiting to be discovered. To find it you have to break rules, push boundaries and climb over the barriers in your way. With its relentless toughness and durability, the all-
new Bronco was built to carry outdoor enthusiasts
to wherever the wilderness calls. Available in two-
or four-door models.

Preproduction Computer Generated Images Shown.  Vehicle available Spring 2021.

*Terms and conditions apply.

Meet the latest in the family. The all-new Bronco Sport is your wilderness guide with four unique series engineered to match the way you experience the outdoors. Each, expertly equipped to get you out there - To the mountain ranges, the woodland trails, and the scenic shores. Your adventure begins in a Bronco Sport, and it never ends.

Preproduction Computer Generated Images Shown.  Vehicle available Spring 2021.



*Terms and conditions apply.

Are you ready to celebrate the rebirth of this illustrious Ford SUV that will take on the roads later this year? Well, the celebration is on its way with the thrilling new 2021 Ford Bronco, which will soon reach our dealership. It is making a heroic comeback with a modern interior that everyone can enjoy, and an exterior that still harkens back to the rugged style that made the original Ford Bronco famous. The 2021 Ford Bronco and the 2021 Ford Bronco Sport are set to inspire a new generation, and our sales team at Wendle Ford can't wait to show you everything it has to offer.
The exemplary Ford Bronco made a lasting impression as one of the most successful SUV models for more than 50 years. The imprint started when the Ford Bronco launched in 1965 as the 1966 model. Since then, the Ford Bronco has won the hearts of adventure lovers with its versatility and wild spirit.

The first SUV model boasted a CB radio, auxiliary gas tank, a post-hole digger, winch, and power take-off. As the legacy grows, the new generation of models will feature modern performance and intelligence systems. As you anticipate the new model, Wendle Ford encourages you to stay up to date by keeping in touch with our Blue Oval Brand experts.
The 2021 Ford Bronco interior goes the extra mile with the latest connectivity systems, including the powerful Ford SYNC® 3, Apple CarPlay™, Android Auto™, Ford+Alexa, and more. Become one of the first to sign up for a test drive in the 2021 Ford Bronco by completing our form below. Come to Wendle Ford, and our team can let you know more about the 2021 Ford Bronco reveal taking place later this year.
Hours
Monday

8:00AM - 6:00PM - Sales Only - Labor Day

Tuesday

8:00AM - 8:00PM

Wednesday

8:00AM - 8:00PM

Thursday

8:00AM - 8:00PM

Friday

8:00AM - 8:00PM

Saturday

8:00AM - 7:00PM

Sunday

10:00AM - 6:00PM
Ask About The 2021 Ford Bronco