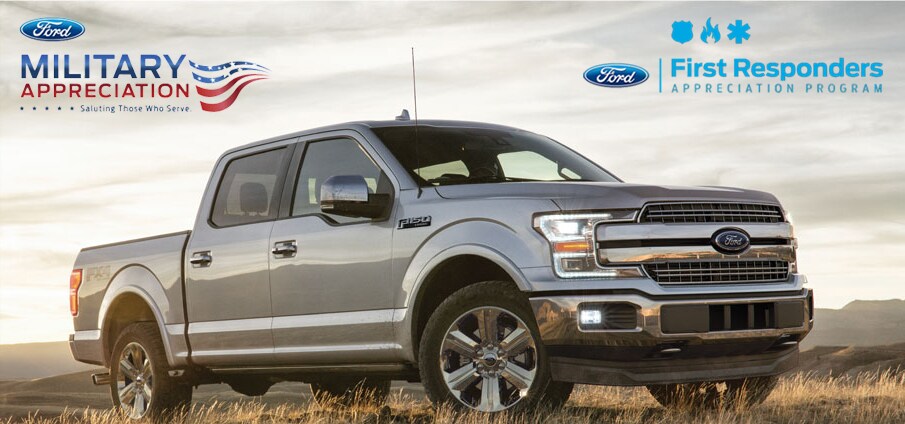 Ford Motor Company appreciates those who serve our country in the military and as first responders.  They are proud to offer them and their families a bonus cash offer.  It is their way to say "Thank you for your service."

Hours
Monday

8:00AM - 6:00PM - Sales Only - Labor Day

Tuesday

8:00AM - 8:00PM

Wednesday

8:00AM - 8:00PM

Thursday

8:00AM - 8:00PM

Friday

8:00AM - 8:00PM

Saturday

8:00AM - 7:00PM

Sunday

10:00AM - 6:00PM
Who is eligible for the special military incentive?
ELIGIBLE:
• Active: Active Military Personnel in the Army, Navy, Air Force, Marines, Coast Guard National Guard, Reservists Serving on Active Duty and members of the Delayed Entry/Enlistment Program (DEP). This includes Spouses and Surviving Spouses.
• Veterans: A person who served in the active military, naval, or air service, and who was discharged or released there from under conditions other than dishonorable. Must be within 24 months of separation.
• Retirees: A military retiree is any member or former member of the uniformed services who is entitled, under statute, to retire or retirement (this typically requires 20 years of service). They will receive a pension as a retiree. This also includes those with a medical retirement.
• National Guard and Honor Guard: These individuals would be eligible under the current branch of service that they serve (Army, Navy, Air Force, Marines, Coast Guard).
• Reservists: Must be on orders to deploy or were a veteran within 24 months of separation.
NOT ELIGIBLE:
• Active Ready Reserve or Selected Reserve: An individual of the Ready Reserve or Selected Reserve is required to complete a specified number of drill periods per year by reporting to their reserve unit and completing the prescribed training. They are also required to complete a two week period of job-specific training. They only become active when they get orders to deploy. These individuals have completed their term of service and are eligible as a Veteran or Retired Status for this promotion only. Some individuals may not be eligible because they have not completed their active status and have not achieved their Veteran status yet.
• Inactive Ready Reservists (IRR): An individual assigned to the IRR typically receives no pay and is not obligated to drill, conduct annual training, or participate in any military activities (except for periodic Muster activities) until activated by Presidential Reserve Call up Authority or until electing to drill, train, or serve in a "Drill without Pay" or an "Active Duty" role. Having previously served or retired, they would be eligible as a Veteran or Active Status during this promotion only.
• Standby Reserve: An individual that maintains their military affiliation without being in the Ready Reserve. The Standby Reserve consists of two components: the Active Status List and the Inactive Status List. For soldiers who do not choose whether or not to stay in the Active Reserve, they are added to the Standby reserve. Membership in the Standby Reserves is limited to one year, after which they must determine if they are transferring to the IRR or to an active drilling unit.
• State Guard: Also known as State defense forces are military units that operate under the sole authority of a state government; they are partially regulated by the National Guard, but they are not a part of the US Military forces. State defense forces are authorized by state are under the command of the governor of each state. Not all states have State Guard organizations and they are not typically considered "military" under the industry standards. State Guards cannot be federalized (they would never fall under the Department of Defense) and are completely separate entities from the United States Armed Forces. Therefore not eligible for this program.
Who is eligible for the first responder incentive?
ELIGIBLE:
• 911 Dispatcher
• Police Officer
• Sheriff/Sheriff's Deputy
• Correctional Officer
• State Trooper
• Federal law Enforcement Officer
(Example: Department of Public Safety, Central Intelligence Agency; please note that not all Federal Law Enforcement Officers qualify for the program.)
• Career Firefighter
• Volunteer Firefighter
• EMT
• Paramedic
NOT ELIGIBLE:
• Registered Nurse
• Ski Patrol
• CERT Team Member-Community Emergency Response Team
• VIPS-Volunteers in Police Service
• Search and Rescue
• Emergency Management Volunteers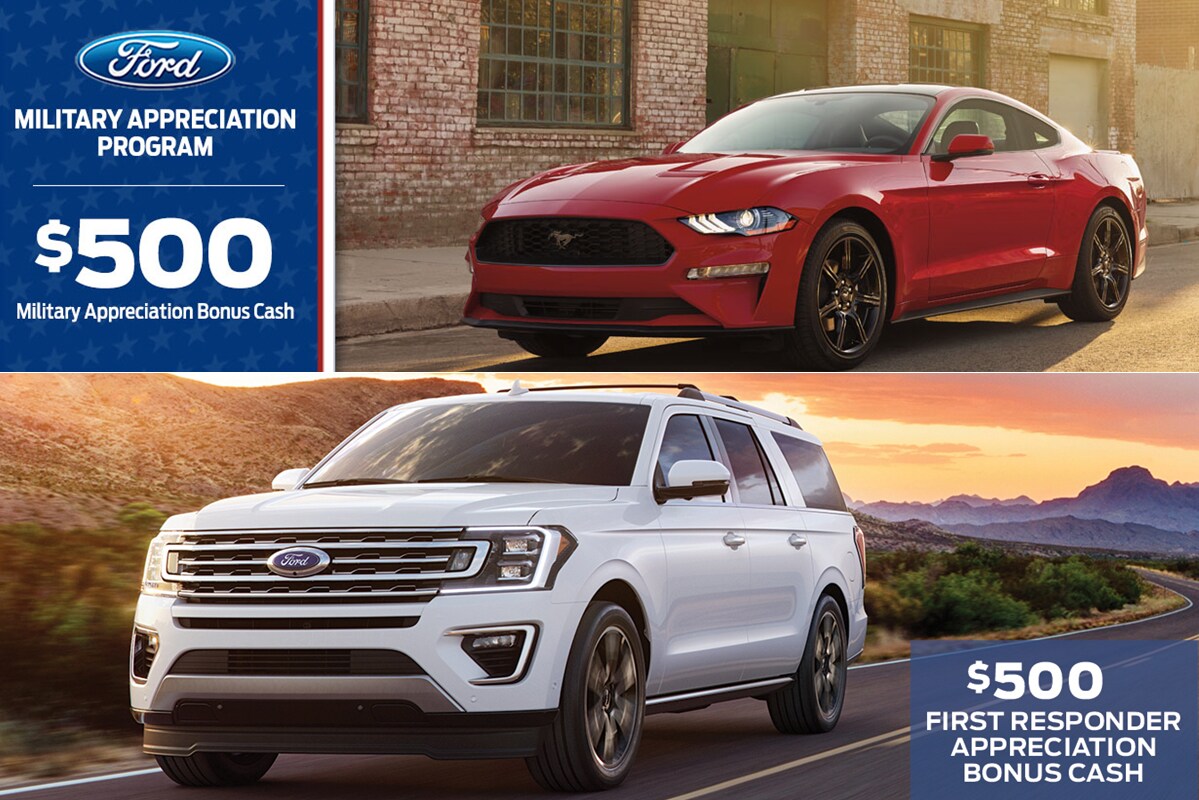 What vehicles are eligible?
All 2018/2019 Ford are eligible for this promotion. This offer is not available on Mustang Shelby GT350®, Mustang Shelby® GT350R, Mustang BULLITT Ford GT, Focus RS, F-150 Raptor.  Must take new retail delivery from dealer stock by January 2, 2020. Limit of 5, for U.S. residents only. See dealer for complete details and eligibility.

2.  Check your email for a certificate
Make an Inquiry